Autograph Letter Signed ('Ellenborough') with pencil draft of Nichols's reply.
Author:
Edward Law, 1st Earl of Ellenborough (1790-1871), Tory politician; Governor-General of India [John Gough Nichols (1806-1873), printer and antiquary; Southam House, Southam Delabere, Gloucestershire]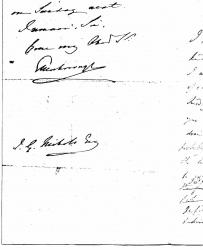 Publication details:
17 November 1832; Southam House.
SKU: 7367
12mo bifolium. Ellenborough's letter (15 lines of text) occupies the first leaf; with the pencil draft of Gough's reply (also 15 lines), with additions and deletions, on the recto of the second leaf. Very good, with traces of grey paper mount adhering in a thin strip to the reverse of the second leaf. Ellenborough will 'afford' Nichols 'every facility for the making of tracings from the Tiles at Southam'. If Nichols will let him know when he is coming he will 'make it a point to be here'. Suggests that Nichols might come 'after Church, about 2 o'clock, on Sunday next'. In reply Nichols says he will do himself 'the honour of calling at the hour you name'. Asks Ellenborough to 'give directions to drain & dry' the tiles, as they 'have probably become very wet during the last two days', and makes another request relating to them.
Phone enquries
RICHARD M. FORD
Tel: +44 20 8993 1235