Menu for a dinner of the Worshipful Company of Stationers at Brusnwick Hotel, Blackwall. With ornate doily cut border.
Author:
The Worshipful Company of Stationers [Stationers' Company; paper doily]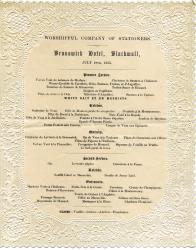 SKU: 7771
On one side of a piece of wove paper roughly 23.5 x 19 cm. A delicate and scarce piece of ephemera, in a remarkably good state of repair. Possibly a proof, as a thin blank strip along one of the vertical edges, intended to be detached and discarded, still adheres. The menu itself is crisply printed in the centre, covering a space roughly 17 x 13.5 cm. Listed are a mouth-watering selection of dishes, divided into Permier Service (including 'Water-Zooches de Carrelets, Soles, Saumon, Truites, et d'Anguilles'); Releves (including 'Poulets a l'ivorie Sauce Supreme'); Entrees; Second Service; more Releves (including 'Boudin de Jenny Lind'), Entremets and Glaces. The attractive doily-cut border around the menu is roughly 3 cm deep at the sides and 5 cm deep at the corners.
Phone enquries
RICHARD M. FORD
Tel: +44 20 8993 1235