A Letter to the Right Honorable the Lord Brougham and Vaux, &c. &c. &c. On the late Decision of the Earldom of Devon.
Author:
T. C. B.' [Thomas Christopher Banks; Henry Peter Brougham, Lord Brougham and Vaux; the Earl of Devon]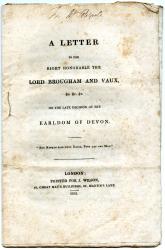 Publication details:
London: Printed for J. Wilson, 19, Great May's Buildings, St. Martin's Lane. 1831. [G. Norman, Printer, Maiden Lane, Covent-Garden.]
SKU: 7892
8vo: 24 pp. Stitched as issued. Inscribed at the head of the title-page 'For Mr Walpole'. Text clear and entire. Good, on foxed paper, with one dog-eared corner. A couple of manuscript annotations, one in the form of a footnote, and one correction, whether by the inscriber or recipient unclear. The author defends his claim that he 'cannot believe otherwise, than had the claimant to the Devon Peerage been an humble individual, less affluent, and less powerfully connected, he would not have succeeded in his claim'. Scarce: the only copies on COPAC at the Durham and the British Library.
Phone enquries
RICHARD M. FORD
Tel: +44 20 8993 1235