Autograph Letter Signed ('Jackie & Ann Coogan') by Hollywood actor Jackie Coogan to the variety entertainer Rubye Colleano.
Author:
Jackie Coogan (1914-1984), Hollywood actor [Rubye Colleano; Bonar Colleano]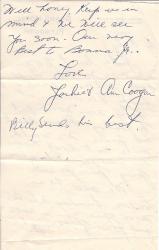 Publication details:
Undated [c. 1947?]. On letterhead of the Grand Hotel, Plymouth.
SKU: 9547
12mo, 2 pp. 19 lines of text. Clear and complete. Fair, on lightly-aged paper. Begins 'Just a line to tell you we miss you like mad & hope you are well & happy. Praises a 'dinner at Mary's'. They hope to call on Colleano when passing through London on 'Sunday Nite'. Ends 'Well honey, keep us in mind & we will see you soon - Our very best to Bonar Jr. [Colleano's son the film actor Bonar Colleano]' Postscript 'Billy sends his best'. Coogan was married to Ann McCormack, his third wife, from 1946 to 1951. From the Colleano Family archive.
Phone enquries
RICHARD M. FORD
Tel: +44 20 8993 1235