Autograph Note Signed from the Punch illustrator Charles Keene ('Charles S. Keene') to fellow-artist Frank Walton.
Author:
Charles Keene [Charles S. Keene; Charles Samuel Keene] (1823-1891), English illustrator, known for his work for 'Punch' [Frank Walton (1840-1928), artist]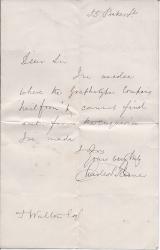 Publication details:
Undated. 55 Baker Street, London.
SKU: 9799
12mo, 1 p. Fair, on aged paper folded twice. He has 'no idea where the Graphotype Company "hail from" & cannot find out', despite making enquiries.
Phone enquries
RICHARD M. FORD
Tel: +44 20 8993 1235