Autograph Postcard Signed "R.S." (Randolph Schwabe) to Jean Inglis, Scottish artist.
Author:
Randolph Schwabe, draughtsman and printmaker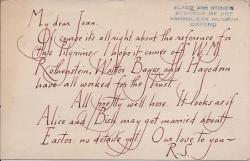 Publication details:
Slade and Ruskin Schools of Art, Ashmolean Museum, Oxford [stamp], [1941]
SKU: 9917
C.14 x 9cm, calligraphic writing style, good condition. "Of course it's allright about the reference for the Pilgrims. I hope it comes off. W.M. Rothenstein, Walter Bayes and Hagedon have all worked for the Trust. | All pretty well here. It looks as if Alice and Bish may get married about Easter: no details yet. Our love to you -" Note: Entries referring to the Schwabes in Jean Inglis's diaries indicate a strong friendship involving meals, films and plays.
Phone enquries
RICHARD M. FORD
Tel: +44 20 8993 1235