[ Printed catalogue of puppet figures by Albert Guillaume, produced for the 1900 Paris World's Fair. ] Exposition Universelle de 1900 | Au Théâtre des Bonshommes Guillaume | Au Cours-la-Reine (Rue de Paris)'.
Author:
[ Albert Guillaume (1873-1942), French painter, caricaturist and 'father of the modern poster'; Exposition Universelle de 1900; Paris World's Fair, 1900 ]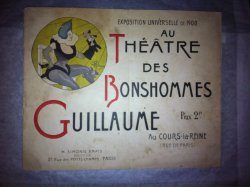 Publication details:
H. Simonis Empis | Editeur | 21, Rue des Petits-Champs, Paris. [ 1900. ]
SKU: 18292
16pp., landscape 8vo. Stapled in cream printed wraps, printed in black red, grey, yellow and blue, with caricature by Guillaume on cover showing a lady performer on a chair with a glove puppet of a gentleman. Worn and aged, with rusted staples, and wrappers detached. The sixteen pages of the catalogue are printed in light-blue and yellow on shiny art paper, and consist entirely of captioned photographs of waxworks, with no accompanying text. A striking and somewhat strange collection of designs, serious in intent rather than caricatures, comprising arrangements of figures from modern society, the French military and ancient history (Cleopatra and Anthony on a palanquin; a martyred maiden in a cage with a lion). Guillaume won a bronze medal at the Fair for this work. Two copies on OCLC WorldCat. A copy in the Bibliotheque Nationale has accompanying text by Ernest Laut.
Keywords:
Phone enquries
RICHARD M. FORD
Tel: +44 7884 315 545