[ Wings over Everest; film ] Photograph of Camera Crew at work, with note by and signature of Ronald L. Read, sound recordist, and commemorative stamp. See image.
Author:
[Houston Mt Everest Flight Film] Ronald L. Read, sound recordist (at least)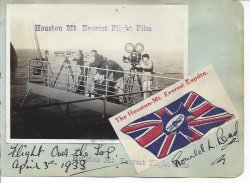 SKU: 23308
Detached album page, 14 x 10cm, a little grubby, with , laid down, a photograph of the camera crew in action, 10 x 8cm, Signed Ronald L. Read, with a note in his hand, Flight over the Top | April 3rd 1933. Item stamped twice The Houston-Mt. Everest Flight Film. A commemorative stamp partly obscures the photograph (plane at centre of Union Jack). See image. Read also features on Google as a cameraman.
Phone enquries
RICHARD M. FORD
Tel: +44 7884 315 545