[Periodical; India] Single issue of Britain and India. A Monthly Magazine, vol.1, no.4 (April 1920).
Author:
[Periodical; India] Editor: Josephine Ransom [Australian Theosophist and writer, see Wikipedia]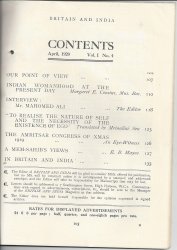 Publication details:
Printed by J. Edward Francis at the Athenaeum Press. See image for CONTENTS.
SKU: 23624
Wraps, paginated [i]-ii;105-144; iii-[iv] inc.wraps, mainly good condition, but rusty round staples, one punch-hole (with minor loss of text) characteristic of material from the papers formerly held at the headquarters of the National Indian Association and the Northbrook Society, 21 Cromwell Road, later by its former Warden, Roland Knaster. Note: Founded in 1920 by the Australian Josephine Ransom, the magazine Britain and India was set up for the Promotion of Friendliness, Understanding, and Sympathy between Britain and India."A special interest magazine, it included a range of articles on all aspects of Indian life, thought and conditions especially related to Britain. Its specific endeavour was the promotion of Indian-British relations by highlighting the deep connection between both countries. It featured news articles, features and special interviews with eminent people, including the first Indian to win the Nobel Prize, Rabindranath Tagore.The magazine also included a book reviews section and a regular round-up of events taking place in Britain of interest to those with a connection to India.The magazine was a small operation funded mainly by subscription, but due to a lack of funds it folded at the end of the year. Scarce but four World Libraries appear to have one or more issues including the BL.
Phone enquries
RICHARD M. FORD
Tel: +44 7884 315 545