[Legal Settlement in Sevenoaks, Kent; 1709/10] Certificate of legal settlement in the Parish of Sevenoaks, Kent. for Edward Kirkin and his wife, Constant.
Author:
[William Lambard (presumably descendant of the Antiquary); John Amherst (father of the General); Church Wardens; Overseers.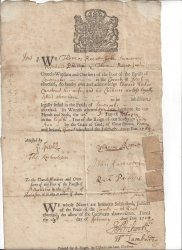 Publication details:
[Sevenoaks, 1709/10]. Printed for R. Vincent, in Clifford's-Inn-Lane, Fleet Street.
SKU: 24722
Apparently a rare survival but I'd welcome information. One page, folio, fold marks, foxing, some rough edges, but text clear and complete. Headed by Royal Coat-of-Arms (Dieu et Mon Droit). Signed by Church Wardens and Overseers of the Poor of Sevenoaks (signatures of Thomas Reeeve, John Summers, Rich Phillips), attested by [signatures follow] R. Spilsted and Tho. Richardson. Concluding with the signatures of J[effrey] Amherst (father of the Commander-in-Chief of the Forces in the British Army to be) AND W[illiam] Lambard (presumably descendant of the Antiquary). SEE IMAGE for details. Note: [Wikipedia] The property-less employee escaped the tithes and taxes and received, when destitute, the parish pay. Under the Settlement Act 1662, aka Poor Relief Act, at the discretion of the Overseers of the Poor, he was liable to be sent back to the parish where he was born or otherwise legally settled. However, he could obtain a settlement certificate to enable him to seek work elsewhere. He might thus live in a new parish but without becoming settled by contribution receive no benefits from the new parish; only from his parish of origin.
Keywords:
Phone enquries
RICHARD M. FORD
Tel: +44 7884 315 545