[John Bowring, sometime Governor of Hong Kong] Autograph Letter Signed John Bowring to dear Friend [Miss Mary A. Humble] about the consequences of a disaster (shipwreck in the Red Sea on his return trip from Hong Kong).
Author:
John Bowring [Sir John Bowring or Phraya Siamanukulkij Siammitrmahayot (1792-1872), British political economist, traveller, writer, literary translator, polyglot and the fourth Governor of Hong Kong.]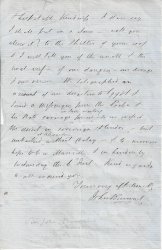 Publication details:
Off Sardinia St [Ellera?], 2 July 1859. At foot of first page: Miss Mary A Humble | Vicars Cross | Chester.
SKU: 25068
Two pages, 8vo, blue paper, fold marks, slight damage at fold not affecting text, mainly good condition. Despite a neat appearance, a difficult hand occasionally. Text: Of our disaster [underlined] you will have heard from others. I know you will not be displeased to hear of our safety from us [underlined]. We have lost nearly everything - Maria everything [see Note B. below] & have been clothed by Christian charity. I think better of human nature & more highly of human virtue after what I have seen. It was a beautiful display of every mortal excellence. I have been proud [underlined] of Maria. Her mother - how would she have [?] to the details of our dolorous story! The dead are spared the sufferings of the living. In a letter from Edith [received?] at Malta & [dated?] from Vicar's Cross she speaks of your [?] & hospitable kindness. I dare say I shall put in a claim - will you allow it? to the shelter of your roof & I will tell you of the [???] of our dangers,- our doings & our rescue. W. telegraphed an account of our disaster to Egypt & found a messenger from the Pacha & his State carriage in here waiting for us,- so we crossed the desert in sovereign splendor - but embarked at Alexandria without delay - & t0-morrow hope to be in Marseille & in London by Wednesday the 6th July. Kind regards to all around you | Yours very affectionately | John Bowring.Note: A. Bowring's work in Hong Kong ended in May 1859; B. His wife, Maria, died apparently in 1858 (Wikipedia) leaving here a puzzle.
Phone enquries
RICHARD M. FORD
Tel: +44 7884 315 545