Notes et Notices sur l'Expédition scientifique des Anglais au pic de Ténériffe, en 1856. Sur l'Origine des Espèces [i.e. Darwin's 'Origin of Species']. Sur Toulon, port de mer. Sur l'Ouvrage de Miss Nightingale, intitulé: Notes on Nursing. [...]
Author:
J.-P.-A. Madden [Jean-Patrice-Auguste Madden (1808-1889)] [Florence Nightingale; Charles Darwin]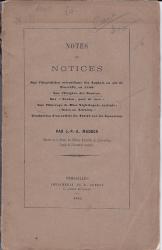 Publication details:
Versailles: Imprimérie de E. Aubert, 6, Avenue de Sceaux. 1864.
SKU: 10538
12mo, [iv] + 52 + [i], the last page carrying an erratum. Unopened. In original grey printed wraps. Text clear and complete. Fair, on aged paper, with wear to wraps (particularly spine) and dog-eared front wrap. Bound in at the end is a separate seven-page pamphlet with a title-page which simply reads 'Toulon Port de Guerre par J. P.A. Madden.' The printer of this seven-page item is Imprimérie Cerf at Versailles. The fifth and last piece in the main item is a 'Traduction d'un article du TITAN sur les Aquarium.' On the title-page of the main item Madden is described as 'Membre de la Société des Sciences Naturelles de Seine-et-Oise, Agrégé de l'Université imperiale'. Scarce: the only copies of the main item on COPAC at the University of California and the Bibliotheque Nationale; and the only copy of 'Toulon Port de Guerre' at the Bibliotheque Nationale.
Phone enquries
RICHARD M. FORD
Tel: +44 20 8993 1235