Typed Letter Signed Ambrose Grant, other pseud. James Hadley Chase, to Mrs Dribble, about More Deadly that the Male.
Author:
[James Hadley Chase] Ambrose Grant, pseud. Rene Lodge Brabazon Raymond, crime novelist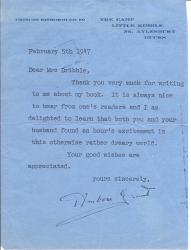 Publication details:
[Headed] The Camp, Little Kimble, Nr. Aylesbury, Bucks., 5 Feb. 1947.
SKU: 10760
One page, 12mo, good condition. Thanks you very much for writing to me about my boo. It is always nice to hear from oone's readers and I am delighted to learn that both you and your husband found an hour's excitement in this otherwise rather dreary world. | Your good wishes are appreciated. Norte: Apparently Raymond/Chase/Grant only published More Deadly than the Male under the pseudonym Ambrose Grant so letters signed so may well be scarce.
Keywords:
Phone enquries
RICHARD M. FORD
Tel: +44 20 8993 1235