Autograph Letter Signed ('Charles W. Dilke') from Sir Charles Wentworth Dilke to Hyde Clarke.
Author:
Sir Charles Wentworth Dilke (1843-1911), 2nd Baronet, editor of 'The Athenaeum' [Hyde Clarke (1815-1895), civil engineer, banker, polyglot]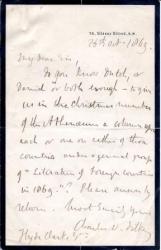 Publication details:
26 October 1869; on letterhead of 76 Sloane Street, S.W. [London]
SKU: 11075
12mo, 1 p. Mourning border. Nine lines. Text clear and complete. Fair, on worn and lightly-aged paper. Asks if Clarke knows 'Dutch, or Danish or both enough - to give us in the Christmas number of the Athenaeum a column upon each or one or either of those countries under a general group of "Literature of Foreign Countries in 1869"?' Requests an answer by return.
Phone enquries
RICHARD M. FORD
Tel: +44 7884 315 545