Autograph Note in the third person from the London auctioneer James Christie to the journalist Charles Molloy Westmacott, with signed receipt by Christie's warehouseman John Biddle for '69 Pictures'.
Author:
James Christie the younger (1773-1831), London auctioneer and antiquary [Charles Molloy Westmacott (c.1786-1868), editor of 'The Age', half-brother of sculptor Sir Richard Westmacott (1775-1856)]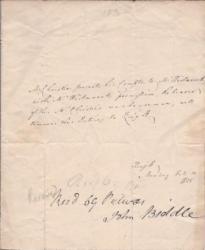 Publication details:
King Street; 14 February 1825.
SKU: 11193
1 p, 4to. On a bifolium, addressed on reverse of second leaf: 'Thursday at 11 O'Clock | Chas. Westmacott, Esqr., | 5, Clements Inn.' Fair, on creased and aged paper. Christie's note reads 'Mr Christie presents his Compts. to Mr. Westmacott. | with Mr. Westmacott's permission, the bearer of this Mr. Christie's warehouseman, will remove the Pictures to King St. | King St, | Monday Feb. 14 | 1825.' Beneath this, in another hand, Recd 69 Pictures | [signed] John Biddle'. Above Biddle's receipt, in a third hand, are the word 'Received' and 'Recd 69 [i.e. Christie & Manson?]' in pencil. Westmacott was something of a connoisseur; his entry in the Oxford Dictionary of National Biography, by Manfred Draudt, describes how by 1831, through his editorship of the 'scandalous tory journal, the Age', he 'was prosperous and possessed a pretty cottage between Barnes and Richmond, its grounds adorned with sculptures'. See entry for Westmacott in DNB for dubious newspaper practices ("blackmailer")..
Phone enquries
RICHARD M. FORD
Tel: +44 20 8993 1235