Nayler & Co.[Dutch book catalogue, 1842] Catalogue van Kopiyen, Aanbiedingen, enz [Full title page give below]
Author:
[Dutch bookseller's/auctioneer's catalogue 1842] Nayler and Co., booksellers, Amsterdam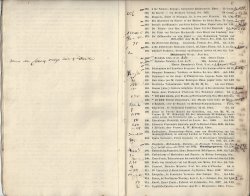 Publication details:
Gedruky bij M. & F.C. Westerman, O.Z. Achterburgwal te Amsterdam. 1842 (in roman numerals).
SKU: 16408
Total 48pp, 8vo, including alternate blanks for notes,with handwritten information about prices, etc. (seller's marked copy presumably), marbled wraps, worn, contents sl. worn at edges but complete, with ill-defined stamps at beginning and end (one has phrase Noord Holland). REST Of title-page: "Op Zaturday den XVIII Junij 1842, | zullen Nayler & Co. met hunne | Ongebonden- Verkooping | een aanvang maken, | in het Logement DE ZON, op Nieuwen-Dijk, No. 234, | te Amsterdam [...] Uren van Verkoop: | 9 tot 12 - 1 tot 4 - 6 tot 10 - met Klokstage. || De Ondernemers belasten zich met Kommission - Brieven franko. [imprint}". The book is divided into sections as follows: Voorwarden (one page); Diverse Werken, in Diverse Talen (16pp. plus blanks); Nagekomene Goederen (5pp., plus blanks, sixth page headed "HH. Confraters!"); Een Blaadje uit ons ALBUM (2pp.); Nagekomene Boeken, enz (2pp., no blanks and no annotation). Main catalogue apparently has prices fetched and additonal information all in manuscripyt.
Keywords:
Phone enquries
RICHARD M. FORD
Tel: +44 7884 315 545