[ Ferdinand de Lesseps; Suez ] Autograph Note Signed "ferd. de Lesseps" to "Mr Hartley" [Sir Charles Augustus Hartley (1825–1915) eminent British civil engineer ), acknowledging congratulations to his 80th birthday
Author:
Ferdinand de Lesseps [Ferdinand Marie, Vicomte de Lesseps (1805–1894) French diplomat and later developer of the Suez Canal,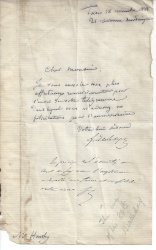 Publication details:
21 Avenue Montaigne, Paris 18 novembre 188[5?]
SKU: 22206
See image. One page, 12mo, crumpled and lined but text clear, but part nearly illegible, as follows: "Je vous envoie mes plus affectueux remerciements pour l'envoi de votre telegramme dont lequel vous m'adressez vos felicitations pour l'anniversaire. | subscription and signature followed by four lines in a sloping rather than nearly upright (as the quoted text) hand initialled with a squiggle, presumably him but mainly illegible except for the phrase "l'angleterre". Note: " [I]n 1884 the British government nominated [ Hartley] a member of the international technical commission for widening the Suez Canal."
Keywords:
Phone enquries
RICHARD M. FORD
Tel: +44 7884 315 545