[M.E. Grant Duff; India] Appointment Certificate Signed M E Grant Duff.
Author:
Sir Mountstuart Elphinstone Grant Duff (1829 – 1906), Scottish politician, administrator and author. Sometime Under-Secretary of State for India.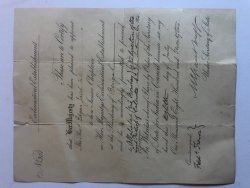 SKU: 23545
One page, 4to, part printed, part manuscript, minor damage on fold marks, loss of small part of the word is, small closed tear, some weakness on fold marks. See Image. Text headed Ecclesiastical Establishment | No. 301, part that is Manuscript is in square brackets: These are to certify that Her Majesty has been pleased to appoint The Revd [Edgar Jacob M.A] to be a Junior Chaplain on Her Majestys Establishment at the Presidency of [Bengal] and he is accordingly permitted to proceed to [Allahabad (via Bombay) by the direction of the Lord Bishop of Calcutta, overland from Southampton on the 8th proximo] | In Witness whereof I have by Order of the Secretary of State for India in Council hereunto set my hand this [eighth] day of [July] One Thousand Eight Hundred and [seventy-two]. | Countersigned [Fredk Trevor] [M E Grant Duff] | Under Secretary of State. Frederick Trevor appears in Wikipedia as a cricketer and civil servant. He was made a Companion to the Order of the Indian Empire in 1900.
Phone enquries
RICHARD M. FORD
Tel: +44 7884 315 545