[Thomas Law, reformer; Bengal; India; Washington DC] Autograph Letter Signed T Law to The Honble Mr Clay [Henry Clay Sr., American attorney/statesman], praising Clay, mention of Talbother's fever, expanding on his theory re population control
Author:
Thomas Law (1756 - 1834), reformer of British policy in India, where he served as collector of revenue for the East India Company.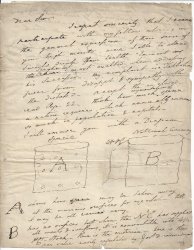 Publication details:
No place or date given. Clay became Speaker in the 1810-1811 Elections.
SKU: 23641
Three pages, 4to, bifolium, poor condition, with some (crude) repair work but other closed tears on folds, requiring attention BUT text clear and complete (with odd difficult word). Some pencil notes by a later reader, inaccurately attributing to Edmund Law. Text: I regret sincerely that I cannot participate with my fellow citizens in the general expression of their sense of your high merits. Were I able to attend I would drink your health Eminent [speaker?] but most exalted when addressing his successor. My complaint is a Talbother fever from disapp[ointmen]t & sympathy with the distress'd - accept the enclosed - read Page 22. Think how much augmentation of specie a nation requires, which annually increases so much in population & capital - I will amuse you with a Diagram [SEE IMAGE] | A. shews how much specie may be taken away at the various orifices for [exportation?] till it may be all carried away. | B. has no orifices but when the N[ationa]l C[urrenc]y has supplied all wants & overflows, it is convertible into 41/2 [?] Stock- Here is the criterion - here is the par value easily regulated by Govt [?] individual on the one hand the Govt can supply enough, & individually by convertibility can prevent superfluity & depreciation. I am very unwell & must think of a toast or two - | That this at least I may my tribute pay To our City's [Washington] friend & to our Nations [stay?]. His name it were superfluous to say - | T Law. Note: Working with Lord Cornwallis, governor-general of India, Law formulated a major policy known as the Permanent Settlement, which served as the basis for land tenure and taxation policy for natives during subsequent decades of British rule. He returned to England for his health in 1791, and emigrated to the United States in 1794. He settled in Washington, D.C., where he became a major investor in property and a prominent civic leader in the developing new capital. A widely read intellectual, he had grand visions for bringing Enlightenment ideas to bear in reshaping both colonial British India and the early American republic.[...] Law built several buildings in DC, including a hotel and other properties along New Jersey Avenue, SE, and invested in others. He bought land down to Buzzard's Point, an area along the East Branch of the Potomac, and established some commercial businesses there, including a sugar mill. Because of his commercial background, he thought that area along the waterfront would rapidly develop. But early development in the city was concentrated around the White House and Capitol, the center of its political life. Over time, Law assumed a prominent role in the city's social, political, and economic life, becoming known as an energetic, if somewhat eccentric, promoter of his adopted country. He published poetry, and moral philosophy. He helped found the first theater in the nation's capital, a dancing society, and a learned society called the Columbian Institute for the Promotion of Arts and Sciences. After the War of 1812, in which Washington had suffered burning by the British, Law led an effort to retain the national capital there. He directed construction of a temporary Capitol, so Congress would have a place to meet. He continued to invest in real estate holdings in the Southwest and Southeast parts of the city. [...]. At the time of his death in 1834, Law had earned the support and friendship of such important national figures as presidents Thomas Jefferson, John Quincy Adams, John C. Calhoun, and Henry Clay, as well as the esteem of many ordinary citizens. Law's life and career provide a concrete link between Britain's Second Empire in India and its First Empire in North America.[...] £550.00
Keywords:
Phone enquries
RICHARD M. FORD
Tel: +44 7884 315 545