[Chula of Siam; motor-racing] Signature only Chula of Siam.
Author:
Chula of Siam [Chula Chakrabongse (1908 – 1963), member of the family of the Chakri Dynasty of Thailand]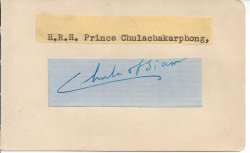 SKU: 23681
Paper 7.5 x 2.5, laid down on larger paper (page from a small album), very top of the f of of carelessly trimmed, good condition. See image.
Keywords:
Phone enquries
RICHARD M. FORD
Tel: +44 7884 315 545