[Jim Mollison, aviator] Signature Only J A Mollison.
Author:
J.A. Mollison [Jim Mollison], James Allan Mollison (1905 – 1959), Scottish pioneer aviator, married to Amy Johnson.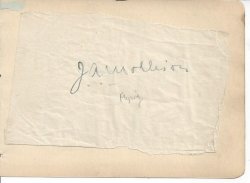 Publication details:
No place or date given [c.1938?].
SKU: 23718
Signature only on scrap of paper, uneven edges,c.12 x 7.5 cm, tipped on to sl. larger page from an autograph album, sl. faded as if ink in pen running out. See image. The signature of Arthur J, Cummings, journalist and author is on the reverse, dated 20 Sept. 1938.
Keywords:
Phone enquries
RICHARD M. FORD
Tel: +44 7884 315 545