[Anthony Asquith, British film director.] Signed Autograph Inscription to Louis Frewen, of rHodes Hose Library, autograph collector..
Author:
Anthony Asquith ['Puffin'] (1902-1968), film director ('The Winslow Boy', 'The Browning Version', 'Pygmalion') and aesthete, son of Liberal Prime Minister H. H. Asquith and socialite Margot Asquith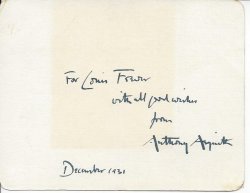 SKU: 23882
See his entry in the Oxford DNB. In good condition, with light dabs of glue from mount on reverse. On 11.5 x 9 cm card with rounded edges. Clearly in response to a request for an autograph, he writes: 'For Louis Frewen / with all good wishes / from / Anthony Asquith / December 1931'.
Keywords:
Phone enquries
RICHARD M. FORD
Tel: +44 7884 315 545