[Louise Michel, Communard, French anarchist] Address in her hand (le Docteur Vintras-see below) and signature on (empty) envelope. See image.
Author:
Louise Michel, Communard, French anarchist, school teacher and medical worker.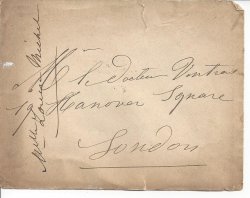 SKU: 24503
Envelope, 12 x 9cm, small closed tears, dusted but text clear and complete. Text: Address M. le docteur Vintras | Hanover Square | London ; cross signed Mlle Louise Michel underlined. See image. Note: Vintras wasa Doctor and poet. Published The Silver Net in London in 1903 as well being the physician to the French Hospital in London and later Director of the French Convalescent Home at Brighton and of the Annexe for the Preventive Treatment of tuberculosis; George Charles Louis Vintras, B.Sc.Paris, M.D.Durh, obit. British Medical Journal, 1934, Feb 17; 1(3815): 317; he was Assistant Secretary to the French Committee representation at the Seventh International Congress of Hygiene & Demography, 1891.
Phone enquries
RICHARD M. FORD
Tel: +44 7884 315 545