[Henry Williamson, novelist and ruralist, author of 'Tarka the Otter'.] Long typewritten description of his farm, Bank House, Botesdale, Suffolk, with autograph emendations, intended to aid its sale, but surprisingly readable.
Author:
Henry Williamson (1895-1977), English novelist, naturalist and ruralist, best-known for his book 'Tarka the Otter'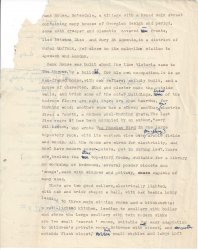 Publication details:
No date or place. [1950; Bank House, Botesdale, Suffolk.]
SKU: 24784
See his entry in the Oxford DNB. According to Anne Williamson's 1995 biography, Williamson decided on the spot to purchase the farm at Bank House, Botesdale, Suffolk, when his car broke down across the road from it in July 1945. The purchase price was £1700. Five years later he decided that the farm 'could be honourably sold and he could become a full-time writer again'. It was sold in September 1950 for £2,600, although, as Anne Williamson notes, and the present item makes clear, a higher price had previously been considered. The present item is a 3pp, 4to. It is a complete typescript of Williamson's sale description of the house, with numerous autograph emendations, ending 'Price for quick sale £3,500.' On two leaves of A4 paper, the first of which has some damage to one corner at the top, resulting in some damage to three or four typed words, and one word in autograph, all of which are easily supplied. Otherwise in good condition, lightly aged and creased, with one horizontal fold. Sixty-seven lines of text, beginning: 'Bank House, Botesdale, a village with a broad main street containing many houses of Georgian design and period, some with creeper and clematis covered fronts, lies between Diss and Bury St Edmunds, in a district of rural Suffolk, yet close to the main-line station to Ipswich and London.' Not unexpectedly a highly readable account for a practical document, with some indication that the writer is an author. In fact, in the second paragraph he writes (autograph addition in square brackets): 'The last five years it has been occupied by an author, Henry Williamson, who wrote the Phasian Bird in the large top-story room, with its western view over [far-flung] arable fields and woods.' Later on: 'There is a seperate entrance to the large gravelled yard with grass borders, by means of a courtyard gate, [leading to] a tiled garage holding two motorcars; and adjoining a cement-floored workshop. The area of this year and buildings [is] about [that of] a tennis court with [margins for overplay.]' And later still: 'It is not an large unwieldy house, but a spacious dwelling built for himself by one of the burgesses of this old Suffolk village when wool, from the great ewe-flocks of the neighbourhood, was yet the basis of England's wealth, [by the craft of the] East Anglian weavers.' Williamson describes how he has spent 'a fair amount of money on reconditioning the place'. See Image.
Keywords:
Phone enquries
RICHARD M. FORD
Tel: +44 7884 315 545