Manuscript document, naming those 'present' and 'Tickets disposed of' at a 'Mass Meeting Berwick [on Tweed]', 1897.
Author:
[Northern Union of Conservative Associations, mass meeting, Berwick-upon-Tweed, 1897]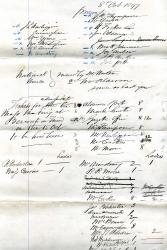 Publication details:
Document dated 15 October 1897.
SKU: 9421
Folio, 1 p. Docketed on reverse: '15 Oct 1897 | Mass Meeting Berwick | Tickets disposed of'. Text clear and complete. Fair, on lightly-aged paper. In double-column, in at least two hands. Additions in pencil and blue pencil. The Times, 16 October 1897, carried a report of the event, described as the 'greatest political gathering ever held in Northumberland outside Newcastle-upon-Tyne'. Apparently a document produced in the run up to the meeting. Section amounting to a quarter of the text, headed '8 Oct 1897', at top of page, followed by section marked 'Tickets for admission to Mass Meeting at Berwick on Tweed on the 15 Oct to be had here'.
Phone enquries
RICHARD M. FORD
Tel: +44 20 8993 1235