Secretarial Letter, Signed by Cameron, to Dickson, complaining that the latter's charges for work on the Ordnance Survey are 'very high'; ALS, 'Robt. H. Forman" of the War Department to Dickson; copies of Dickson's replies to both men.
Author:
Major-General John Cameron, Director-General of the Ordnance Survey, 1875-1878 [William Dickson, Clerk of the Peace of the County of Northumberland; Alnwick]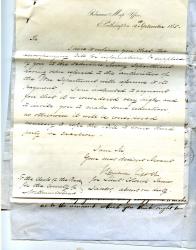 Publication details:
London and Alnwick. All from 1855. Cameron's letter on letterhead of the Ordnance Map Office, Southampton.
SKU: 9429
All four items with text clear and complete. Good, on lightly-aged paper. The four items pinned together and placed in the stamped envelope of Cameron's letter, addressed to Dickson as 'Clerk of the Peace of the County of Northumberland | Newcastle upon Tyne'. Casting interesting light on the workings of the Ordnance Survey. Letter One: Cameron to Dickson ('for Lieut: Colonel James | Director, absent on duty'), 19 September 1855. 4to, 1 p. Dickson's 'Bill for information &c supplied [...] to the Ordnance Survey Department' has been 'referred to authorities of the War Department', as it is 'considered very high'. If Dickson will not 'make some reduction', the bill will be referred 'to some third party for taxation'. Letter Two: Copy of Dickson to Cameron (erroneously addressed to 'Capt J Camborn'), 25 September 1855. 4to, 2 pp. Stating that he has 'made these charges according to the principle usually adopted by professional men', and that he 'would not object to refer it to any respectable Solicitor [...] You must recollect this that I was referred to by the Officers of Newcastle, only upon very nice points of law & that each of them required more or less consideration & more or less examination into Records & Old Acts of Parliament'. Letter Three: Forman to Dickson, 13 October 19855. 4to, 1 p. Asking for Dickson's bill, returned to him 'by Col. James', to be sent back, 'in order that I may look over it again'. Letter Four: Copy of Dickson to Forman, 15 October 1855. 4to, 1 p. Sending the bill. Seven line postscript beginning: 'You cannot judge of the trouble I had unless you have read my replies & opinions to the Enquiries put to me - the Boundary question between North Durham &c - caused me to peruse long Latin Records [...]'.
Phone enquries
RICHARD M. FORD
Tel: +44 20 8993 1235