Autograph Letter Signed 'Frederick J. Hanbury", botanist, to [the Rev. C. W ] 'Shepherd', a fellow-botanist, and the inclusion of Shepherd's 'catalogue' ('London Catalogue of British Plants?')
Author:
Frederick J. Hanbury, botanist [Frederick Janson Hanbury; F.J. Hanbury]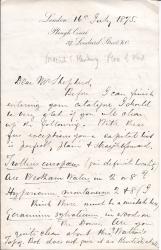 Publication details:
[Printed] London, Plough Court, 37 Lombard Street, EC, 16 July 1875.
SKU: 10907
Four pages, 12mo, Hanbury asks some questions about a 'catalogue' [presumably of plants found in Kent] Shepherd has sent him. "With these few exceptions your capital list is perfectly plain & straightforward". He has questions about Trollius europoeus, Wrotham Waters, Hypericum Montanum ('a mistake here'), Geranium sylvaticum ('Are you quite clear about this? Watson's Topog. Bot. does not give it as Kentish at all'). He corrects him on a geranium he has shown him ('rare or rarer'), believes a mistake has been made placing Lathymus palustris in Ryash Woods ('northern plant'). He goes on with similar comments and questions about nine other plants, asks him 'to put 2 or 8 to the grasses & ferns as you have to the rest of the catalogue'. He wants alterations in red ink, apologising for the trouble but he is after all to be held 'responsible for any statements I put forth'. Note: the 8th edition of 'London Catalogue of British Plants' was published in 1886. the 7th in 1874.
Phone enquries
RICHARD M. FORD
Tel: +44 20 8993 1235