[Huddersfield F.C.] The Autograph Signatures of 12 Players for Huddersfield in its golden period
Author:
Huddersfield F.C. in its pomp.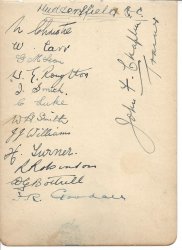 Publication details:
c.1925 [John F. Chaplin, a signatory of this collection describes himself as Trainer. He was trainer from 1922-6 (playup liverpool site)]
SKU: 23475
Page extracted from autograph book, 10 x 14cm, dulled but still clear, one edge roughened having been removed from an autograph book. Signatures of N. Christie, W. Carr, G M Lean, W.E. Roughton, J. Smith, C. Luke, W.H. Smith, J.J. Williams, H. Turner, R. Robinson, W.G.B. Bottrell, F.R. Goodall, John F. Chaplin. See image. Note: Huddersfield became the first English club to win three successive English league titles in 1925–26. The first two league titles were won under manager and pioneer Herbert Chapman, who also led the team to an FA Cup win in 1922. They have been runners-up in the First Division thrice, and FA Cup runners-up four times. Town were the second team, after Blackpool, to have won all three divisional play-offs. In the late 1950s, the club was managed by Bill Shankly, and featured Denis Law and Ray Wilson. Following relegation from the First Division in 1972, Huddersfield spent 45 years in the second, third and fourth tiers of English football, before returning to the top flight in 2017. They were relegated back to the Championship in 2019.; B. J.J. Williams left Huddersfield for Stoke in March 1926, confirming approximated date of signatories.
Keywords:
Phone enquries
RICHARD M. FORD
Tel: +44 7884 315 545