['Clemence Dane', i.e. Winifred Ashton, playwright, novelist and Oscar-winning screenplay writer.] Typed Letter Signed discussing a misunderstanding of her book 'Legend', with inscribed photographic portrait.
Author:
'Clemence Dane', nom de plume of Winifred Ashton (1888-1965), playwright, novelist and Oscar-winning screenplay writer [G. Ralton Barnard of York]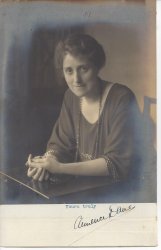 Publication details:
TLS: 17 January 1922; on letterhead of 26 Castellain Mansions, Maida Vale, W.9. [London.] Photograph without date or place.
SKU: 23941
See Ashton's entry in the Oxford DNB. Both items in good condition, lightly aged, with evidence of mount to blank reverse of photograph. ONE: TLS. 17 January 1922. 1p, 12mo. Folded once. Signed 'Clemence Dane'. Addressed to G. Railton Barnard, 6 The Crescent, York. She thanks him for his 'interesting letter': 'If the same question had not already crept up once or twice, I should not have thought it possible for anyone so to misunderstand Legend, but I know people do, clear as I thought I had made it.' Barnard is 'absolutely right': 'Madala Grey is head over ears in love with her husband. She dies a truly happy woman, and one much to be envied.' TWO: 14 x 22 cm bromide print. Portrait of a seated middle-aged Ashton, in pearls and scoop neck dress, with forced grimace, staring at the viewer over a small table, on which her hands are clasped. Laid down over the bottom of the print is a 14 x 4 cm. panel of cartridge paper, on which Ashton has typed 'Yours truly' and written out in autograph her pseudonym 'Clemence Dane'. The image does not appear to be in the National Portrait Gallery collection. See image.
Keywords:
Phone enquries
RICHARD M. FORD
Tel: +44 7884 315 545