['Bert Thomas', British political cartoonist.] Copy of his book 'Close-ups Through a childs eyes / by Bert Thomas', with label bearing autograph inscription.
Author:
'Bert Thomas' [Herbert Samuel Thomas MBE (1883-1966)], British political cartoonist who contributed to Punch magazine and created British propaganda posters during the two world wars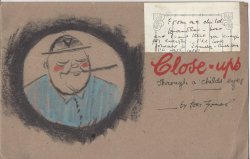 Publication details:
No date (circa 1943). 'A Tuck Book / Raphael Tuck & Sons Ltd / Copyright Printed in England'.
SKU: 24084
See his entry in the Oxford DNB. A scarce item: no copy in the British Library and the only copies on COPAC at Cambridge and the V & A. In fair condition, lightly aged and with slight creasing to outer edge of front cover, on which a label has been laid down, carrying an inscription (repaired at one corner with archival tape) by Thomas: 'From one child to another - Love and I cant thank you enough for everything - I'll look forward to Janiuary - Muh love I'll writer later'. A stapled pamphlet in brown card wraps. 16pp, landscape 8vo. A striking and attractive item, designed to look like a young child's notebooks, the covers having the deliberate appearance of a brown-paper wrapper, with a mock-charcoal illustration of Churchill in tin 'Victory' hat and blue boilersuit, smoking a long cigar. Title on cover: 'Close-ups | Through a childs [sic] eyes | by Bert Thomas'. Purportedly the work of a child named 'Pam', the pamphlet contains childlike images and text, with pages on 'Mr Churchill', 'Mr Roosevelt', 'Premier Stalin', 'Gen. Sikorski', 'Vhisnh Kai-shek', 'Gen De Gaulle', 'Field M. Smuts', 'Eleanor' ('or Mrs Roosevelt'), 'Lord Woolton', 'Mr. Maisky', and 'Five bad men': 'Hitler', 'Mussolini', 'Doctor Goebels', 'Goreing' and 'Laval'. See Image.
Keywords:
Phone enquries
RICHARD M. FORD
Tel: +44 7884 315 545