Autograph Letter Signed Wm. H. Dall, naturalist and explorer, to Mrs Geo. R. Parks [née Elizabeth Robins, author], 24 Iverna Gardens, Kensington, W [London] about Mrs Pennell and the Yukon.
Author:
William Healey Dall, American naturalist, a prominent malacologist, and one of the earliest scientific explorers of interior Alaska.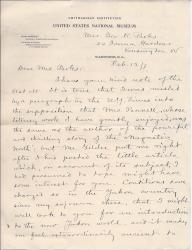 Publication details:
[Headed] Smithsonian Institution, United States National Museum, Washington, DC, 12 Feb. 1907.
SKU: 10071
ELIZABETH ROBINS TRAVEL WRITER ALASKA YUKON EXPLORER SMITHSONIAN ARCTIC
Phone enquries
RICHARD M. FORD
Tel: +44 20 8993 1235