Autograph Letter Signed ('FitzRoy Kelly) from Sir FitzRoy Kelly to Samuel Wilberforce, Bishop of Oxford, regarding the appointment of Sir Henry Acland to the Oxford Regius Professorship of Medicine, with signed Wilberforce note to Acland.
Author:
Sir FitzRoy Edward Kelly (1796-1880), English judge and Tory politician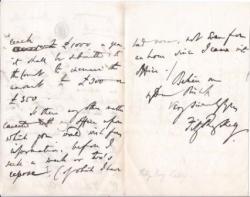 Publication details:
19 October 1858; 32 Dover Street, London. Draft of Wilberforce note dated 21 October 1858.
SKU: 10963
12mo, 3 pp. Regarding the 'assigning of an income to the Regius Professor of Medicine out of the Ewelme Charity': 'I trouble you with a line to say that I have recommended the allowance of £250 a year, and that when the revenues of the Charity shall reach £1000 a year, it shall be submitted to the Court to increase the amount to £300 or £350'. Asks if there is 'any other matter connected with my office upon which you would wish for information, before I seek a week or two's repose? (of which I have had none, not even for an hour since I came into office.)'. The note to Acland (on the reverse of the second leaf of the bifolium) is addressed to him at Lavington, Petworth, and signed 'Samuel Oxon': 'My dear Acland will you send me this back with a line saying if there is anything touching Ewelme you would have me express'. Written up one side of the letter Wilberforce has written 'When do you come?'
Phone enquries
RICHARD M. FORD
Tel: +44 20 8993 1235