Lithograph of drawing of Thomas Hardy by Sir William Rothenstein, from his series 'English Portraits' (1898), printed by Thomas Way.
Author:
Sir William Rothenstein (1872-1945) [Thomas Way (1837-1915), lithographic printer; Thomas Hardy]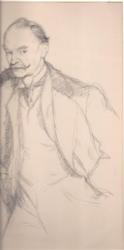 Publication details:
[Print published in 1898; drawing dated 1897.] ['T. WAY, IMPT. LONDON'.]
SKU: 11010
Printed in black and white on piece of paper approximately 24.5 x 27.5 cm. In good condition, on lightly-aged paper. Tipped in into modern white card mount with window frame. From his series of 'English Portraits' (1898). A facsimile of Rothenstein's initials and his dating are in the bottom left-hand corner of the engraving ('W. x R 97'), with Way's slug in the bottom right-hand corner. Fine representation of Hardy, staring warily at the viewer with hands in pockets. Rothenstein's twenty-four 'English Portraits' were published by Grant Richards in an edition of 750, issued in twelve parts of two lithographs each, but many sets were destroyed by a fire at the binders, and only a small proportion of that number appeared.
Phone enquries
RICHARD M. FORD
Tel: +44 20 8993 1235