[ Sean T. O'Kelly, Republican ] Autograph (brief) Curriculum Vitae Signed "With best wishes from | Sean T. O'Kelly"
Author:
Sean T. O'Kelly, sometime President of the Republic of Ireland (1882-1956)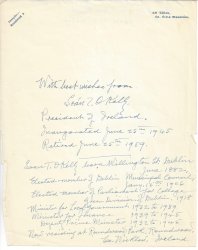 Publication details:
No date, printed address in Irish.
SKU: 20825
One page, 4to, edges sl chipped. mainly good condition, complete. He follows his best wishes (see above) with information about the (formal) political positions he has occupied from President (giving dates of inauguration and retirement ); place of birth (Wellington St, Dublin); when elected to the Dublin Council and Parliament; when Minister for Local Government; and for Finance; when Deputy Prime Minister; current residence at Roundwood Park. Overleaf his name and title (President) in another hand. From a collection of letters addressed to an autograph hunter, David Dean, who asked at least one other "victim" for details of his career (an Admiral). See image on website.
Keywords:
Phone enquries
RICHARD M. FORD
Tel: +44 20 8993 1235