[Domhnall MacEacharn; Gaelic Poet] Autograph Lines in Gaelic signed 'Domhnall MacEacharn'.
Author:
Domhnall MacEacharn [Donald MacKechnie]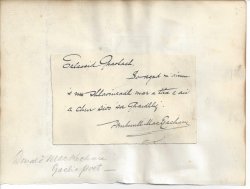 SKU: 23472
Paper, 11 x 7cm, probably from an album (another signature on reverse (Florence Steel)), laid down on larger piece of paper, on the dingy side but text clear and apparently complete. Docketed Donald MacKechnie | Gaelic Poet. See image. Ealasaid ghaolach, So agad m' ainm 's mo shloaineadh mar a tha e air a cur sios 's Ghaidhlig, Domhnull MacEacharn.   "Dear Elizabeth, here is my name for you, and my family name, as it is set down in Gaelic".   
Keywords:
Phone enquries
RICHARD M. FORD
Tel: +44 7884 315 545