['One of the very best comedians of the generation.'] Autograph Note Signed by Nelson Keys, with holograph poem by 'G. L.' and Signed Note by 'Gordon' for actress playing 'Spirit of Spring' in Arthur Wimperis revue at C. B. Cochran's London Pavilion.
Author:
Nelson Keys [Nelson Waite Keys, 'Bunch'] (1887-1939), actor and comedian, father of the film-maker John Paddy Carstairs (1910-1970) [Arthur Wimperis; C. B. Cochran; London Pavilion]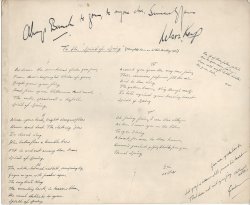 Publication details:
Poem by 'G[ordon]. L.' dated 20 June 1921. [London Pavilion.]
SKU: 23929
Keys features in his son's entry in the Oxford DNB. (John Paddy Carstairs was christened Nelson John Keys.) Three theatrical autographs - Nelson Keys, 'G. L.' and 'Gordon' - on one side of a 25 x 20.5 cm piece of card. Apparently a gift from fellow cast-members to the actress playing the 'Spirit of Spring' in the Arthur Wimperis sketch 'The Queen of Hearts', in the C. B. Cochran London Pavilion revue 'London, Paris and New York', which ran for 366 performances between 1920 and 1921. J. P. Wearing, 'The London Stage 1920-1929' (2014), states that the 'Queen of Hearts' sketch was introduced on 6 June 1921, and reports that the Times reviewer 'thought that the revue demonstrated that Nelson Keys, taking part in every scene, was "one of the very best comedians of the generation."' In fair condition, lightly aged and worn. At the head, in a bold hand: 'Always Bunch to you, to anyone else, / Sincerely yours / Nelson Keys'. Covering the greater part of the page is a thirty-line poem signed and dated at the end 'G. L. / 20. V. 21'. Arranged in five numbered six-line stanzas it is titled 'To the "Spirit of Spring" (Thoughts born on Whit Monday 1921.)' Begins: 'As down the sun-kissed glade you pass, / From dew-bespangled blades of grass, / Bright gems you fling.' Towards the top of the right-hand margin, in the same hand, is the following quotation from Oscar Wilde: 'For if these fallen petals / One to you seem fair, / Love will waft it, till it settles / On your hair. / O. W.' And in the bottom right-hand corner: 'Give me your hands. / Let grief & sorrow still possess his heart / That does not wish you joy. / The Tempest / Act V. Sc. i / Gordon'. See image.
Keywords:
Phone enquries
RICHARD M. FORD
Tel: +44 7884 315 545