Signed Autograph Inscription to Edward Bawden.
Author:
Lionel Ellis (b. 1903), English wood engraver, artist and book illustrator [Edward Bawden]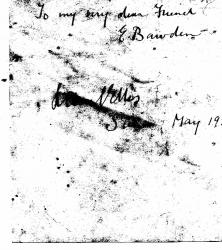 SKU: 7360
On a piece of paper, roughly 14 x 12 cm. Creased, and with a few pin holes (not affecting text). Edges untidily cut. Possibly the ffep of a presented book. Text in purple ink, with good firm signature (roughly 4.5 cm long). Reads 'To my very dear Friend | E. Bawden | [signed] Lionel Ellis | Siena May 1926'. The '6' in the date slightly cropped.
Phone enquries
RICHARD M. FORD
Tel: +44 20 8993 1235