Offprint entitled 'Two Remarkable Letters to Lord Beaconsfield on Trade and Peace.' ['Lord Beaconsfield and Trade' by 'JEW', and 'Lord Beaconsfield and Peace' by 'RABBI'.]
Author:
[?] Baker; the Bolton Guardian [Benjamin Disraeli, Earl of Beaconsfield; William Ewart Gladstone; Victorian anti-semitism; nineteenth-century judaism]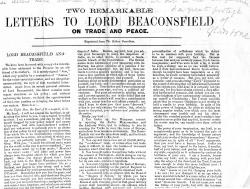 Publication details:
Undated. 'Reprinted from The Bolton Guardian.'
SKU: 7573
In three columns of small type on one side of a piece of unwatermarked wove paper, dimensions 39.5 x 29 cm. Text clear and complete, on aged and lightly creased paper. Four short closed tears at the extremities of folds. An unusual production, docketed in pencil in a contemporary hand at the head: 'These letters were written by Baker, Consul out in the Principalities & a great protege of Gladstone'. Begins 'We have been favoured with a copy of a remarkable letter addressed to the Premier by an old friend of his father's. It is merely signed "Jew," which may possibly be a contraction of "Junius," for the writer certainly imitates, and not altogether unusuccessfully, the style of that wonderful letter-writer. Apart from its severe personal criticism of Lord Beaconsfield, the letter contains some cogent strictures on his policy; and without endorsing the former, we think the opportuneness of the latter justifies us in laying the letter before our readers." Extract from first letter: 'You are, as I hahve said, old, my lord; but I am older. I remember your birth, your circumcision, your baptism; though as to the last I have no advantage over you, for you must recollect it yourself.' Excessively scarce: no copy in the British Library, on COPAC, or on WorldCat.
Phone enquries
RICHARD M. FORD
Tel: +44 7884 315 545