The True Principal of Population; Trade, Profits, Wages, Employment, and the Land Laws.
Author:
T. R.' [population; land reform; Sir Robert Arthur Arnold; Manchester radical politics; economics]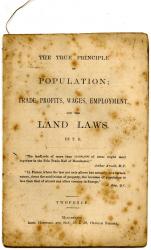 Publication details:
Undated [between 1880 and 1885]. Manchester: Abel Heywood and Son, 56 & 58, Oldham Street.
SKU: 7831
12mo, 15 pp. Stitched as issued. Text clear and complete on aged, worn and foxed paper. Can be dated from references in text, and from quotation on title from 'Arthur Arnold, M.P.' (Arnold's career in the House of Commons ending in 1885). Carries a few contemporary marks in light pencil, and a column in shorthand on the blank reverse of the last leaf. Excessively scarce: no copy in the British Library, on COPAC or on WorldCat.
Phone enquries
RICHARD M. FORD
Tel: +44 20 8993 1235