Kirby, Essex. Catalogue of Live and Dead Farming Stock and Household Furniture, to be sold by auction. By Mr. E. Blyth, on Tuesday, September 19, 1843, At Eleven o'clock, By Order of the Proprietor, Mr. Wm. Wilson, who is retiring from Business.
Author:
Edward Blyth, auctioneer, of Rose Cottage, Thorpe-le-Soken [Colchester, Essex; povincial printing; agriculture; auction catalogues]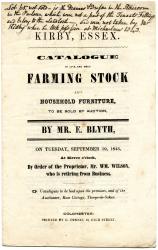 Publication details:
1843. Colchester: Printed by G. Dennis, 40, High Street.
SKU: 8092
12mo: 8 pp (a 43 x 27 cm leaf, printed on both sides and folded twice to make four unopened leaves). Pamphlet. Text clear and complete on lightly-aged and spotted paper. 'Conditions of Sale' on reverse of title. 170 lots, with lots 48 to 68 priced and named by the auctioneer, who gives the total as £4 9s 6d, with 'Commission & Exps.' of £0 8s 6d. Interesting manuscript note at head of title: 'Lot 65 not sold - is the Drawers & Dresser in the Storeroom in the Parlour which were not a part of the Tenants Fittings and belong to the Landlord - and were not taken by Mr. Kidby [sic] when he took possession at Michaelmas 1843.' No copy in the British Museum or on COPAC, and very possibly a unique survival.
Phone enquries
RICHARD M. FORD
Tel: +44 20 8993 1235