Fascists and Nazis. By Perry Belmont, Commander of the Narragansett Bay Chapter of the Military Order of the World War.
Author:
Perry Belmont [Eric Underwood; German Nazism; fascism; the Teutonic Order; Freemasonry]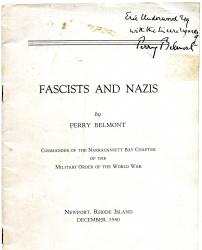 Publication details:
[Privately printed.] Newport, Rhode Island: December, 1940.
SKU: 8736
Stapled pamphlet. 8vo, 27 pp, including full-page photograph of Mussolini embracing a man in Nazi uniform (Himmler?). Fair: internally clean and tight; some marking and wear to covers. Inscribed on title-page to 'Eric Underwood Esq with the sincere regards of Perry Belmont'. (Underwood is perhaps the English-born Australian nutritionist, 1905-1980.) Curious, digressive, energetic attack on fascism, with sections on the Teutonic Order, 'Oath-bound organisations' (Freemasonry) and 'Gangsters'. Belmont contrasts the present state of Germany with that in 1873, when, with Neilson Winthrop he attended the University of Berlin after his graduation from Harvard. A footnote gives an idea of the tone: '[...] We attended the lectures of Rancke Mommsen and other magic professorial names which did not quite live up to their world wide reputation. We engaged the tutor of other Americans who was an amiable fanatic on Hegel. We were amused at his conviction that the perfection of the human brain was personified in Hegel and could not exist outside of the boundaries of Germany. Today the Nazi doctrine is more comprehensive. [...]' One copy on WorldCat (Harvard - no indication of inscription), none on COPAC.
Phone enquries
RICHARD M. FORD
Tel: +44 20 8993 1235