Typed Letter Signed, in English, to R. W. C. Vail of the Roosevelt House Library and Museum, with typed invoice.
Author:
Edouard Champion, Paris bookseller, publisher and autograph dealer, 'Seul Agent (France, Belgique, Suisse) du British Museum'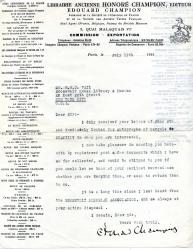 Publication details:
Both items dated 11 July 1924, and both on his letterhead.
SKU: 9098
Both items fair, on lightly-aged paper. Both with list of Champion's publications down the left-hand margin, and with the list continuing in the letter to the blank second page. Letter: 4to, 1 p. He is sending 'a few documents which I have so far collected' relating to the Marquis de Chamilly. 'It is a long time since I last heard from the ROOSEVELT MEMORIAL ASSOCIATION, and am always at your entire disposal.' Invoice: Landscape 8vo. 12mo, 1 p. Containing five Chamilly letters, totalling 268 francs.
Phone enquries
RICHARD M. FORD
Tel: +44 20 8993 1235