Eight Autograph Letters Signed from the Scottish anatomist Sir Arthur Keith to Grace Norbury, wife of Lionel Norbury, Professor of Surgery.
Author:
Sir Arthur Keith (1866-1955), Scottish anatomist and anthropologist [Lionel Norbury (1882-1967)]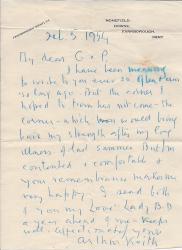 Publication details:
Between 1948 and 1954. Six on his letterhead at Homefield, Downe, Farnborough, Kent; two on letterheads of Buckston Browne Research Farm.
SKU: 9685
A total of twelve 12mo pages and two 4to pages. All texts clear and complete. Good, on lightly-aged paper. The first letter addressed to 'Mrs Norbury', and the others to 'Grace'. After a first letter of 1948, in which he complains that he is 'becoming more & more a home dweller', the correspondence continues in 1951, with Keith thanking Mrs Norbury for a gift of sugar ('Its arrival made my housekeeper Miss Holman quite elated'), and sending Lionel Norbury encouragement on his Hunterian Oration ('My heart goes out to the Orator & to his Better Half'). On 5 February 1954 he writes concerning his acceptance of his coming demise: 'the corner I hoped to turn has not come - the corner - which would bring back my strength after my long illness of last summer. But I'm contented & comfortable & your remembrance makes me happy.' In a later letter comments that 'bed makes my best paradise'. Also several references to his companion Lady Boyd Dawkins, and a graceful response to a complimentary poem by Mrs Norbury.
Phone enquries
RICHARD M. FORD
Tel: +44 20 8993 1235