Autograph Letter Signed from Abbott Lawrence, United States Minister to the Court of St James, to James Wyld, Member of Parliament for Bodmin, concerning his gift to the American people of his 'New Map of Central America'.
Author:
Abbott Lawrence (1792-1855), United States Envoy Extraordinary and Minister Plenipotentiary to the Court of St James, 1849-1852, founder of Lawrence, Massachusetts [James Wyld (1812-1887), mapmaker]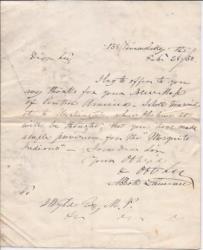 Publication details:
28 February 1850; 138 Piccadilly, London.
SKU: 10968
4to, 1 p. Text clear and complete. In original envelope, addressed by Lawrence and with his red wax seal and frank ('Abbott Lawrence'), 'To | James Wyld Esqre M.P. | &c &c &c | Charing Cross East'. On aged and stained paper. He thanks him for his 'New Map of Central America', which he will 'transmit to Washington, where I believe it will be thought, that you have made ample provision for the "Mosquito Indians"'. The following year Wyld would erect his 'Great Globe' in Leicester Square, where it would remain until 1862.
Phone enquries
RICHARD M. FORD
Tel: +44 20 8993 1235