[Printed poem.] Castlemilk - A Sketch. | November 1867.
Author:
'H. M. E.' [Anne Helen Margaret Stirling-Stuart, of Castlemilk House, Rutherglen, Lanarkshire; Glasgow, Scotland]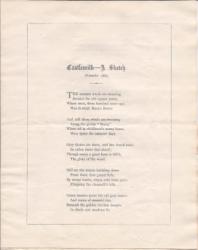 Publication details:
With manuscript inscription dated 1871.
SKU: 11107
4to, 2 pp. On first leaf of a bifolium. Text clear and complete. Good, on lightly-aged laid paper with watermark of 'A ANNANDALE & SONS'. Stuck down on the reverse of the blank second leaf of the bifolium is a square of paper from the leaf to which it was attached in an album, and beneath this square, visible when held up to the light, is the inscription: 'Imperfectly printed | Annie Stirling Stuart | Castlemilk | 1871'. The poem is 48 lines long, arranged in twelve stanzas. Signed 'H. M. E.' in type at end (perhaps one of the Erskines, relations by marriage of the Stirling-Stuart family). A lament for 'happy youth! too quickly sped | Within these old grey towers'. First stanza reads: 'THE autumn winds are moaning | Around the old square tower, | Where once, three hundred years ago, | Was Scottish Mary's Bower.' (The reference is to Cassilton Tower, around which Castlemilk House was built, where Mary Queen of Scots stayed on the eve of the Battle of Langside, 1568.) References to the 'Tay bridge' and 'great city' (i.e. Glasgow). Last stanza: 'The memory of our early home | Its fairest lustre shed | O'er lives that blossom in good deeds | That live, when we are dead!' Excessively scarce: no copy in the National Library of Scotland, on COPAC or WorldCat. Castlemilk House was built around Cassilton Tower, which was started in 1460 on the site of a 13th-century castle. The five-hundred-year-old Castlemilk House was demolished by Glasgow Corporation in 1969 to make way for an ill-advised housing project. Castlemilk is now a district of Glasgow.
Phone enquries
RICHARD M. FORD
Tel: +44 20 8993 1235