[The Universal Group of Intuitives, Essex spiritualist society.] Printed prospectus: 'A Message from Angela (General Secretary)', with portrait, 'concerning first vol. of the group's issue of "Spirit Revelation unveils the Bible" by Charles Kingsley.
Author:
'Angela' (Susan Boltwood), General Secretary of the Universal Group of Intuitives, Essex, founded by her and her husband Charles Dennis Boltwood ('Crusader'); spiritualism; Charles Kingsley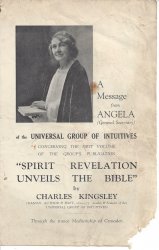 Publication details:
'November, 1937. Written from' 'Parent Centre, "Eversley", Thorpe-le-Soken, Essex.'
SKU: 24827
The item advertised in the present prospectus (no other copy of which has been traced) is unaccountably absent from the bibliography of the Victorian author Charles Kingsley. Information regarding the Universal Group of Intuitives was provided to 'Light', the journal of the Spiritualist Alliance, by its General Secretary Mrs Frances Boltwood ('Angela'), and appeared in its number of 10 September 1936. The UGI was, according to Mrs Boltwood, 'guided in all its activities by its leader and founder, Charles Kingsley, Canon, Author and Poet (1819-1875) [...] It came into being through the mission work which was founded by Charles Kingsley and opened in the home of Mr. and Mrs. C. D. Boltwood, at 6 Milverton Gardens, Seven Kings. This was begun on November 20th, 1932. Angela's Healing Sanctuary has been a definite part of the work.' 'Angela' was based at the 'First Church' at Grosvenor Hall, 45 Grosvenor Road, Ilford. The 'New Headquarters', a 'Father-Mother Church, Healing Sanctuary and Rest Home' was claimed to be 'dedicated' by Kingsley in 1936. No other copy traced. 3pp, 12mo. Bifolium. A frail ephemeral survival. In poor condition, creased and pitted, with loss to lower corners of both leaves (not affecting text) and pitting and holes. The front cover carries a photographic portrait of a smiling 'Angela'. i.e. Mrs Boltwood. The book is said to have been written by Kingsley 'Through the trance Mediumship of Crusader', i.e. Mr Boltwood. The prospectus is written in the form of a two-page letter from 'Angela' to 'Dear Universal Reader'. She reports that she has 'separated from the world', and has willingly given herself up 'to the work of providing by demonstration the Truth of the teachings brought by our Leader and Founder, Charles Kingsley'. She notes that 'Many members - now over two hundred - have contributed to the cost of publishing this Volume, but without the greater assistance of Miss K. M. Pearson, it would have been impossible for a while to have published the First Volume. The meeting of many expenses which have occurred in establishing the Universal Group of Intuitives has been largely due to Miss Pearson giving the greater part of her earthly income.' The book itself is scarce, with JISC only listing copies at the BL, Cambridge and Trinity College Dublin. Despite the importunings of 'Angela' and 'Crusader', Kingsley does not appear to have been inclined to complete his magnum opus. By 1950 Charles Dennis Boltwood (1889-1985) had grown disattisfied with Kingsley. He was ordained a priest of the Free Protestant Episcopal Church, and ten years later he was a bishop and its leader.
Keywords:
Phone enquries
RICHARD M. FORD
Tel: +44 7884 315 545