Autograph Letter Signed, Amédée de Willot [un comte et général de la Révolution française], to a British Admiral [Was Sidney Smith the only Admiral who could speak French?], hostile to democracy among other things.
Author:
Amédée de Willot, French General.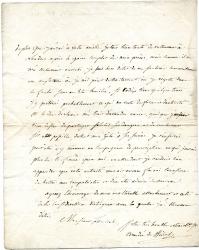 Publication details:
Baltimore, [Maryland, USA], 29 October 1810.
SKU: 9266
Two pages, 4to, bifolium, fold marks, some discoloration, but text clear and complete. He takes the liberty of introducing "deux voyageurs,pour vous renouveller l'expression de ma reconnaissance: ce jour deux jeunes américains bien Elevés, fils des Colonel Howard [American Revolutionary hero and important in the development of Baltimore, etc] et [Sloan?] ... et ce qui est mieux de la consideration publique ils voyagent pour ... et désirent beaucoup de voir un héros de l'angleterre, c'est pourquoi j'ai pris la liberté de vous les adrèsser. [?] ici avec leurs familles je puis vous assurer qu'ils sont très Eloignés des principes subversifs de la démocratie qui menacent cet Etat ..." He anticpates a career for them in the "legislature" of Maryland on their return. He anticipates returning to London "après le gain compte de mon procès" [no detail known]. It won't make him rich, he says. His future involves association with the Duc d'Orléans ("m'a écrit d'attendre", expecting to share dangers with him and to contribute). "Je réusserai peut être a y menner [sic] un compagnon de proscription en qui j'aurais plus de confiance qu'en moi, en attendant je voudrais bien apprendre que votre activité vous ait encore fourni l'occasion de battre mes compatriotes et d'en être admire de nouveau." Salutations. Note: De Willot campaigned against Buonaparte and accompanied Louis XVIII on his return to Paris in 1814. Titré comte le 2 mars 1816, il est nommé commandant de la division militaire de Corse le 14 mai 1816.
Phone enquries
RICHARD M. FORD
Tel: +44 20 8993 1235