Renters and Lessees. A Review of the Judgment in the Suit of Dauney v. Chatterton By an Old Playgoer.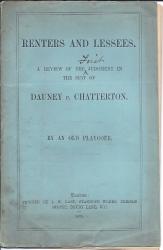 Publication details:
London: Printed by J.W. Last, Stanhope Works, Princes Street, Drury Lane, W.C., 1875.
SKU: 9888
16pp., 8vo, blue printed wraps, some staining, cobver and contents slightly askew, mainly good condition. Someone has added "First" before the word "Judgment" on wraps as well as the title-page. The writer gives a history of Drury Lane to explain the fact that Daunay was a "new renter" (subscriber) asserting privileges, Chatterton being the Theatre Manager.
Keywords:
Phone enquries
RICHARD M. FORD
Tel: +44 20 8993 1235