Autograph Letter Signed by 'C. Spencer' of Cobham [member of Lord Spencer's Family?] to an unknown correspondent, mentioning the antiquary John Gough Nichols, and carrying the wax seal
Author:
C. Spencer of Cobham [John Gough Nichols (1806-1873), printer and antiquary, editor of the Gentleman's Magazine and of the Herald and Genealogist]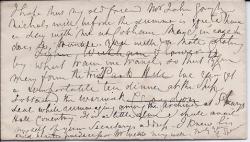 SKU: 10295
The letter is of 23 lines, written on the front and back of an opened envelope with the cancelled address of 'John Wickham Flower Esq, Park Hill, Croydon'. In good condition, on aged paper. The rear of the envelope carries a good impression of a red wax seal, and the letter begins: 'My dear Sir, I had written this letter having obtained my object through my friend the York Herald and I still send it on account of the Seal which was the counter seal of Richd Neville Earl of Warwick killed at the battle of Barnet'. Invites him to 'form the trio' if his 'old friend Mr John Gough Nichols' has 'before the summer is gone [...] a day with me at Cobham.' States that he 'obtained the Warwick Seal while rummaging among the archives at St Marys Hall Coventry'.
Phone enquries
RICHARD M. FORD
Tel: +44 20 8993 1235