[Printed handbill.] The Humble Address of the House of Commons to the Queen. [Numb. 96.] [Regarding 'the French King's persisting to Invade'.]
Author:
John Smith, Speaker, House of Commons [Queen Anne; Jacob Tonson; Timothy Goodwin]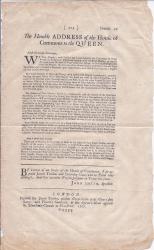 Publication details:
London: Printed for Jacob Tonson, within Grays-Gate next Grays-Inn Lane; and Timothy Goodwin, at the Queen's-Head against St. Dunstan's Church in Fleetstreet. 1707.
SKU: 10357
8vo, 1 p. Text clear and complete. Blank reverse. Fair, on aged paper. Paginated 205, with 'Numb. 96' in the top right-hand corner. In small type. Returning thanks for the speech from the throne, giving 'the Account of the French King's persisting to Invade Your Dominions, and to Impose a Pretender upon these Realms'. Calling for, among other things, 'the severest Punishments' to be 'inflicted upon such as shall Assist in so Unnatural a Design, as that of Betraying Your Majesty and their Country'. Tonson's and Goodwin's appointment, by Smith, is signed in type.
Phone enquries
RICHARD M. FORD
Tel: +44 7884 315 545